News
/
Los Angeles
NEWS BY LOCATION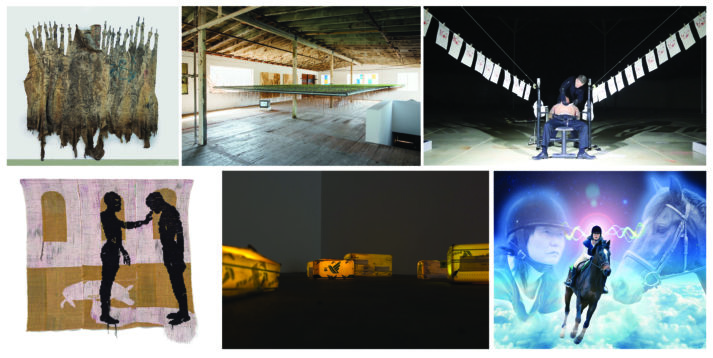 Announcing the 2019 Los Angeles Artadia Award Finalists
Artadia is pleased to announce the six Finalists for the 2019 Los Angeles Awards:
Eddie Aparicio, Carmen Argote, Ron Athey, Diedrick Brackens, Gelare Koshgozaran, and Jennifer Moon.
The Finalists were selected by jurors Pavel Pyś, Curator of Visual Arts, Walker Art Center, Minneapolis; Erin Christovale, Assistant Curator, Hammer Museum, Los Angeles; and Zina Saro-Wiwa, artist.
On the jurying experience and the breadth of work in Los Angeles, Saro-Wiwa stated, "There is an incredible energy in the art scene in LA at the moment and this was evident in the applications which all demonstrated flair, commitment and singularity. The broad demographic scope of applications was also wonderful to see. The final six artists chosen show fearlessness and dedication and I am truly excited to see where their work continues to take them. I want to thank my fellow jurors and the eye-opening conversations we had about the many applications we received. I also want to thank Artadia for making such awards possible. A gift to the living artist."
Of the process, Pyś continued: "We are proud of the shortlisted artists, who working in such a variety of materials and aesthetic approaches, attest to the vibrancy of the LA scene."
Finalists and Artadia Award recipients are selected through Artadia's rigorous, two-tier jury review process. In the first round of review, jurors evaluated the merit of all submissions and collaboratively determined the six Finalists. The second round will consist of studio visits with each Finalist to select three Artadia Awardees. Two Awardees will receive an unrestricted grant of $10,000. In 2019, Artadia introduced the Marciano Artadia Award. In partnership with the Marciano Art Foundation (MAF), a third Awardee will receive an unrestricted grant in the amount of $25,000. The Los Angeles Awards are open to all visual artists living and working in Los Angeles County for over two years, working in any media, and at any stage of their career. This is Artadia's fourth Award cycle in Los Angeles.
Artadia is a national non-profit organization that supports artists with unrestricted, merit-based Awards followed by a lifetime of program opportunities. Artadia is unique in that it allows any artist to apply, engages nationally recognized curators to review work, and culminates in direct grants. Since 1999, Artadia has awarded over $5 million to more than 325 artists in Atlanta, Boston, Chicago, Houston, Los Angeles, New York, and San Francisco.
Download the PDF press release here.
---
The 2019 Los Angeles Artadia Awards are generously supported by the Marciano Art Foundation (MAF), GRoW @ Annenberg, Capital Group, Artadia's Board of Directors, Artadia Los Angeles Council members, and individual donors across the country.
Image (left-right): Eddie Aparicio, "Aquellos Que Apuntan Con El Dedo Medio (11th St. and Union St., Los Angeles, California)," 2017. Rubber, sulfur, tree residue, and paint residue on Cotton, 102 x 108 x 6 inches; Carmen Argote, "Accumulations," 2017. Fencing, pine needles, paint, 10 x 10 x 44 feet; Ron Athley, "Cyclic," 2018. Performance; Diedrick Brackens, "opening tombs beneath the heart," 2018. Hand woven cotton and acrylic yarn, 74 x 78 inches; Gelare Khoshgozaran, "U.S. Customs Demands to Know," 2016-ongoing. LED lit packages, dimensions variable, packages received from Iran over the period of the project during the U.S. Sanctions on Iran; Jennifer Moon, "A Story of a Girl and a Horse: The Search for Courage," 2014. Metallic chromogenic print and frame, 58 x 50 inches framed.