News
/
Los Angeles
NEWS BY LOCATION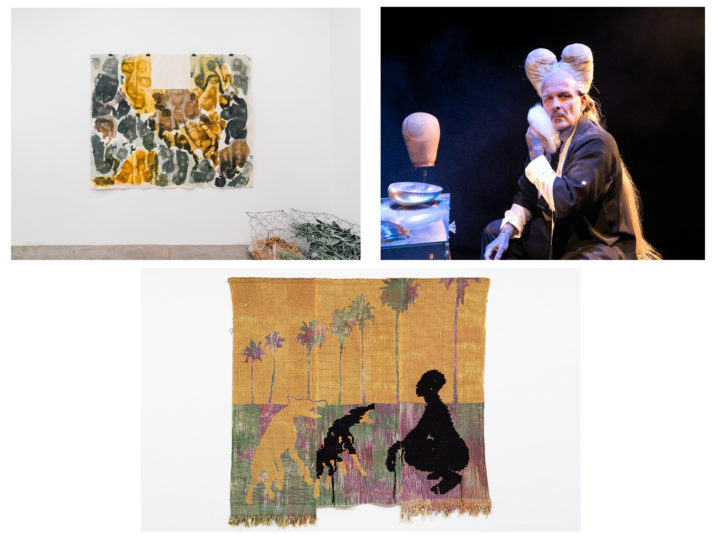 Announcing the 2019 Los Angeles Artadia Awardees
Artadia is pleased to announce the three Awardees for the 2019 Los Angeles Awards: Carmen Argote, Ron Athey, and Diedrick Brackens. Brackens was selected as the inaugural Marciano Artadia Awardee. As the 2019 Los Angeles Artadia Awardees, the artists will receive $10,000 in unrestricted funds as well as access to the ongoing benefits of the Artadia Awards program. The Marciano Artadia Awardee will receive $25,000 in unrestricted funds. Applications for the Awards were open to any visual artist living in Los Angeles County, for over two years, working in any medium and at any stage of their career. This is Artadia's fifth year providing unrestricted Awards to artists in Los Angeles.
In the first round of jurying, Pavel Pyś, Curator of Visual Arts, Walker Art Center, Minneapolis; Erin Christovale, Assistant Curator, Hammer Museum, Los Angeles; and Zina Saro-Wiwa, artist, Brooklyn, NY, selected six Finalists: Eddie Aparicio, Carmen Argote, Ron Athey, Diedrick Brackens, Gelare Koshgozaran, and Jennifer Moon. Anna Katz, Assistant Curator, Museum of Contemporary Art, Los Angeles, joined Christovale for the second round of evaluations. The jurors conducted studio visits with each of the six Finalists to determine the Awardees.
Of the Awardees, Christovale noted: "I believe Carmen, Ron, and Diedrick are shining examples of the vast constellation of creativity that drives our city. I appreciate how thoughtful and incredibly dedicated they are to their crafts and how labor intensive their respective practices are. Diedrick weaves worlds with his fingertips, Ron flips the biblical script with his new age theatrical productions and Carmen's sculptures and installations hold the most profound notions of "home." I am proud to stand by these brilliant artists who are leading Los Angeles into the future."
Katz was impressed by the range of works each Awardee creates. "The 2019 Artadia Awardees represent the best of what makes seeing art in LA so interesting. While Carmen, Diedrick, and Ron work in markedly different, idiosyncratic modes—Carmen is thinking through locality and identity by experimenting with nontraditional materials and emphasizing process within the studio and without; whereas Diedrick is plumbing a history of textiles that encompasses Kente cloth, Bauhaus weaving, the Unicorn Tapestries, and slave-produced cotton, signified in both technique and allegorical imagery; and Ron, whose work in performance art has already secured his place in art history, is unspooling and synthesizing myths and rituals of Surrealist secret societies, Christianity, and ancient Greece in performances keyed to the proto-fascism of our political present–all three are exceptionally creative intellects and makers."
Artadia is a national non-profit organization that supports artists with unrestricted, merit-based Awards followed by a lifetime of program opportunities. Artadia is unique in that it allows any artist to apply, engages nationally recognized curators to review work, and culminates in direct grants. Since 1999, Artadia has awarded over $5 million to more than 325 artists in Atlanta, Boston, Chicago, Houston, Los Angeles, New York, and San Francisco.
The 2019 Los Angeles Artadia Awards are generously supported by the Marciano Art Foundation (MAF), GRoW @ Annenberg, Capital Group, Artadia's Board of Directors, Artadia Los Angeles Council members, and individual donors across the country.