A Letter from Artadia Founder Chris Vroom
Artadia was founded with the ambitious goal of creating not only a national network of support for artists but also a greater understanding of the broad contributions artists make to our society and consequently why they ought to be supported in a systematic, intelligent way. Exposure to the arts fosters creativity and enhances cognitive thinking, it stimulates the senses and helps create community. Art enables us to see the world in new ways. This is one of the most profound aspects of art and its great promise for us all.
While we recognize the provocative ideas and beauty contained within the art object, we also must recognize that the source of that inspiration — the living artist — has to be supported in order to sustain the vitality of our creative culture. We are one of the few organizations in the United States that supports artists directly. But our support does not end with the financial; we recognize that artists require ongoing engagement and that helping them build relationships that endure can be one of our most important benefits.
Since our inception, over 20,000 artists have applied for support and we have provided over $3,000,000 in cash awards and a wide array of services and other benefits such as exhibitions, catalogues, professional development workshops, and more. We have helped some of most interesting and dynamic artists working today do what they do best — make art. If you'd like to see some of the most interesting art being produced today, give us a call. We look forward to seeing you.
Christopher Edwin Vroom
Founder
---
A Letter from Executive Director Carolyn Ramo
Dear Friends,
Since 1999, Artadia has awarded over $3 million in unrestricted funds to over 250 visual artists across the country. These awards would not have been possible without the generous contributions made by loyal individuals like you.
For all its breadth and dynamism, the art community remains financially vulnerable. The destruction left by Hurricane Sandy was a crucial reminder of the importance of our mission to support the living artist. Your contribution will facilitate direct, unrestricted award funds to artists, artist residencies, our publication program, professional artist services, our groundbreaking national exhibitions exchange, and more opportunities for artists across the country.
As Artadia approaches its fifteenth anniversary in 2014, we intend to strengthen the conversation between diverse communities and artists across the US. We are expanding our reach by adding more award cities and the number of Artadia award artists while increasing exposure for artists already in our network. Artadia is unique; once an artist wins an award, they are part of our lifetime network of services. We are proud of the profound growth of our awardees; next week we will share an impressive list of Artadia artists featured in various fairs during Art Basel Miami Beach. We are also pleased to announce the inaugural Artadia NADA award, which will be presented to an artist at next week's NADA fair. In February, we commence our eighth award cycle in San Francisco. We are now collaborating with art enthusiasts and supporters to sponsor individual awards, and we invite more direct and local sponsorship in the coming years.
For more than a decade, your philanthropy has allowed talented artists to create and thrive. The 25-percent growth rate of donor participation in Artadia's Annual Fund in this difficult financial climate is proof of the significance of our mission. Your thoughtful and kind gift will strengthen the creative fabric of our local communities by directly sustaining Artadia's programs for visual artists.
Thank you very much for your generous and vital contribution.
Yours truly,
Carolyn Ramo
Executive Director
---
A Letter from Artist and Board Member Marilyn Minter
Dear fellow art lovers,
I've had the privilege of serving on the Artadia Board of Directors since 2008 and I hope you will join me in supporting Artadia's programs for artists. Through its awards, artist residencies, national exhibition exchange, and publication program, Artadia is helping to change the conversation about why art is important, and supporting artists is key to our common goals.
I know firsthand the enormous benefits artists receive from the type of critical validation and unrestricted support that Artadia offers. I have been the recipient of many grants throughout my career-including the Guggenheim-and they all have been career lifesavers!
Artadia is unique because the program focuses on relationships and cultivating careers long after the awards funds are spent by our awardees. However, there are enormous challenges to doing this work and Artadia depends on you as an integral link in our ecosystem. You are part of a vital and vibrant national network of support that creates opportunities for artists who are seeking recognition and merit-based support. Artists use the funds to buy materials, to pay the rent, and to build a studio of their own.
The availability of unrestricted awards for US visual artists has been declining for more than a decade, the same time period that Artadia has flourished. Since 1999, your support has facilitated the distribution of more than $3 million to over 250 visual artists around the US through Artadia. Your Annual Fund contribution will directly support rising stars and artists you may have not heard of yet, but will know well in the years to come.
Please click here for more information and to donate online.
Warmly,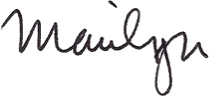 Marilyn Minter