A Benefit to Support the 2015 Houston Artadia Awards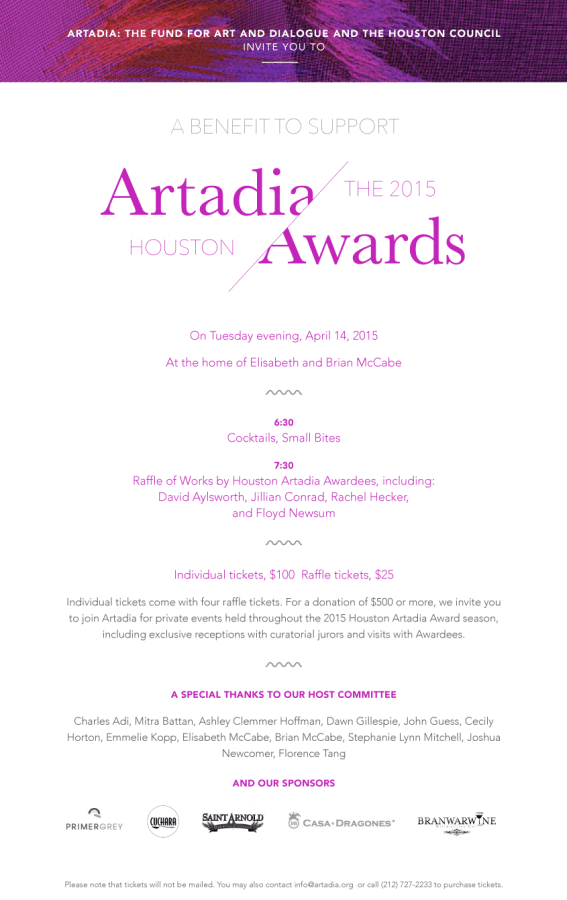 Single Ticket: $100
Individual tickets include four raffle tickets.
Additional Raffle Tickets: $25
Houston Supporting Level: $500
Houston supporting level contributions include two tickets, eight raffle tickets and invitations to join Artadia for private events held throughout the 2015 Houston Artadia Award seasons including exclusive receptions with curatorial jurors and visits with Awardees.
Address will be provided upon RSVP. Please note that tickets will not be mailed – your name and the names of your guests will be held at the door.
If you are unable to attend, please consider making a tax-deductible contribution.
You may also contact info@artadia.org or call (212) 727-2233 to purchase tickets.
Artadia: The Fund for Art & Dialogue is a national non-profit organization that supports visual artists with unrestricted, merit-based awards and fosters connections to a network of opportunities. We recognize artistic excellence in cities throughout the United States and introduce local communities to the international art conversation. In the past 15 years, Artadia has awarded over $3 million to more than 300 artists throughout its participating award cities of Atlanta, Boston, Chicago, Houston, New York, San Francisco, and Los Angeles.